What Does a Service Member Look Like?
By
Major Melissa Buzbee-Stiles, USAF
            Recently, while on a business trip, I struck up a conversation with an older gentleman while waiting to check into the hotel.  We chatted politely and went our separate ways upon reaching the desk.  At breakfast the next morning, he approached me again, this time because I was wearing my uniform.  He commented on how he never would have guessed that I was military because I didn't "look like a service member."  He thanked me for my service and went on his way.  I thought about this conversation when asked to write this essay and wondered, what does a service member look like?
              When I first joined the Air Force in 1992, it was another time, another generation.  I entered the service at a time when women were not allowed to join infantry units, could not fly aircraft used for combat missions, and were restricted from over 25% of the career fields in each service simply due to gender.  When I signed up for the Air Force Reserve, I was thrilled to qualify for training as an aeromedical evacuation technician.  Medical service, while dominated by women in the civilian world, is generally equally split between genders in the military.  However, the vast majority of military units were male dominated.  Female service members were a rarity on base.  It was a way of life.
Over the years, I've watched the military adapt and become more accepting of female service members.  In the early 1990's, deployments were nearly impossible for women, especially if they had children.  September 11, 2001 changed all that.  Prior to that horrific day, I'd deployed only a few times to relatively safe locations.  After 9/11, I was on constant standby to deploy.  I was sent overseas to combat zones three times in 2 years and flew hundreds of wounded soldiers out of harm's way.  In 2004, I commissioned as an Active Duty Second Lieutenant in the Air Force and within 9 months, I was deployed to Balad, Iraq serving as a nurse in the busiest trauma ICU in the world.  One year after returning, I was sent to Bagram, Afghanistan as the Officer In Charge of the ER, once again the busiest trauma center in the world at the time.  These wars effectively changed the "face" of the military.  While the majority of the wounded I treated were men, a large number of them included women.  They were female soldiers serving alongside male counterparts, doing the same job, taking the same risks.  Not once did I hear any complaints, they simply did what they were trained to do and wanted to get back to service as soon as possible.  Their bravery and dedication could not be ignored.  In the aftermath of OEF and OIF, the roles of women in the military have been reevaluated.  Careers previously restricted to women are now open.  Training courses allow those who qualify, regardless of sex, to enter.  The tides are changing and women are being regarded as the valuable service members they have always been.
Over the years, I've been asked how I felt as a woman in the military and I always replied, "the same as a male would feel….proud to serve."  Now we have the opportunity to show that pride.  I've been fortunate enough to lecture at community events, speak at local schools, and mentor young women interested in joining the military.  In every instance, the message remains the same….of every decision I've made in my life, joining the military has been one of the best.  I've spent the last 24 years serving my country, traveling the world, seeing some of the most beautiful, and the most heartbreaking images, one could ever imagine.  It hasn't been easy.  There were times when I looked back and wondered if I made the right choice.  But, for all the hardships, long periods away from home, separation from family, constantly being uprooted only to restart again in a strange place at a new job, there hasn't been one day that I've regretted my decision to join.  Being a member of the United States Air Force has been the greatest honor of my life.  I'm excited to see what the next generation of female Airmen, Soldiers, Sailors and Marines accomplish and am proud to have played a small part in paving the way to their inevitable success.
---
It is with great sadness that we note the passing of Past Department Chaplain Donna Lennon of Rugby, ND.  She left us on July 8th, 2016, in Rochester, MN.  Donna was a long-term member of the Rugby American Legion Auxiliary.
Visitation will be Tuesday, July 12th, 2016, starting at 6 pm.  A prayer service will start at 7 pm.  This will take place at Niewoehner Funeral Home in Rugby, ND.
Visitation will continue Wednesday morning, July 13th, at the funeral home from 8-10 am.  The funeral service will be held at Bethany Lutheran Church in Rugby (July 13th) at 2 pm with a 1 pm visitation.  Interment will be held Thursday, July 14th, at 11 am at the North Dakota Veterans Cemetery in Mandan.
Funeral arrangements by Niewoehner Funeral Home.  (701) 776-6222.
---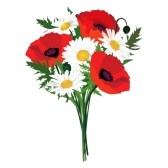 It is with great sadness that we note the passing of Betty Ruzicka of Fordville on July 6, 2016, in Grand Forks.  Betty was a long-term member of the Lankin Auxiliary and a past District Two President.
NW Division Vice President Judy Twete remembers…"Betty was a constant attendee at District Meetings and Department Conventions. Soft spoken Betty was always a smiley presence at all events and looked like a million bucks. May she rest in peace. Allen, Betty's husband, was a long time chairman of Boys State for the Department of ND. Both Allen and Betty were great Legion Family members".
A visitation is scheduled for Sunday, July 10th, 2016 from 5-7 pm at the Quale Lutheran Church in rural Fordville, ND.  A prayer service will also be held starting at 7pm.  The funeral service is scheduled for Monday, July 11th at 10am with a 9am visitation.  This is also at Quale Lutheran Church in Fordville.
Funeral arrangements are being handled by Bakke Funeral home of Larimore, ND.  An obituary link is located below:
---
Fundraiser for Membership: this is something that we need to work on this year to get new members. We are looking to get incentives for recruiting new members. If you have any ideas please email me by July 7, 2016.
---
We have a new Volunteer Tracker that everyone can use for the next year. It is simple and Judy Twete brought it back from another state. Ask the secretary to email you this if you want to keep the file.
---
The Department office is located at 1801 23rd Ave N, Fargo, ND 58102
We still have some mail going to Grand Forks.  Also, send to attention of Shirley Montgomery, Department Secretary.  Thank you.